Welcome to Calvary Baptist Church
































Meet our Pastor & First Lady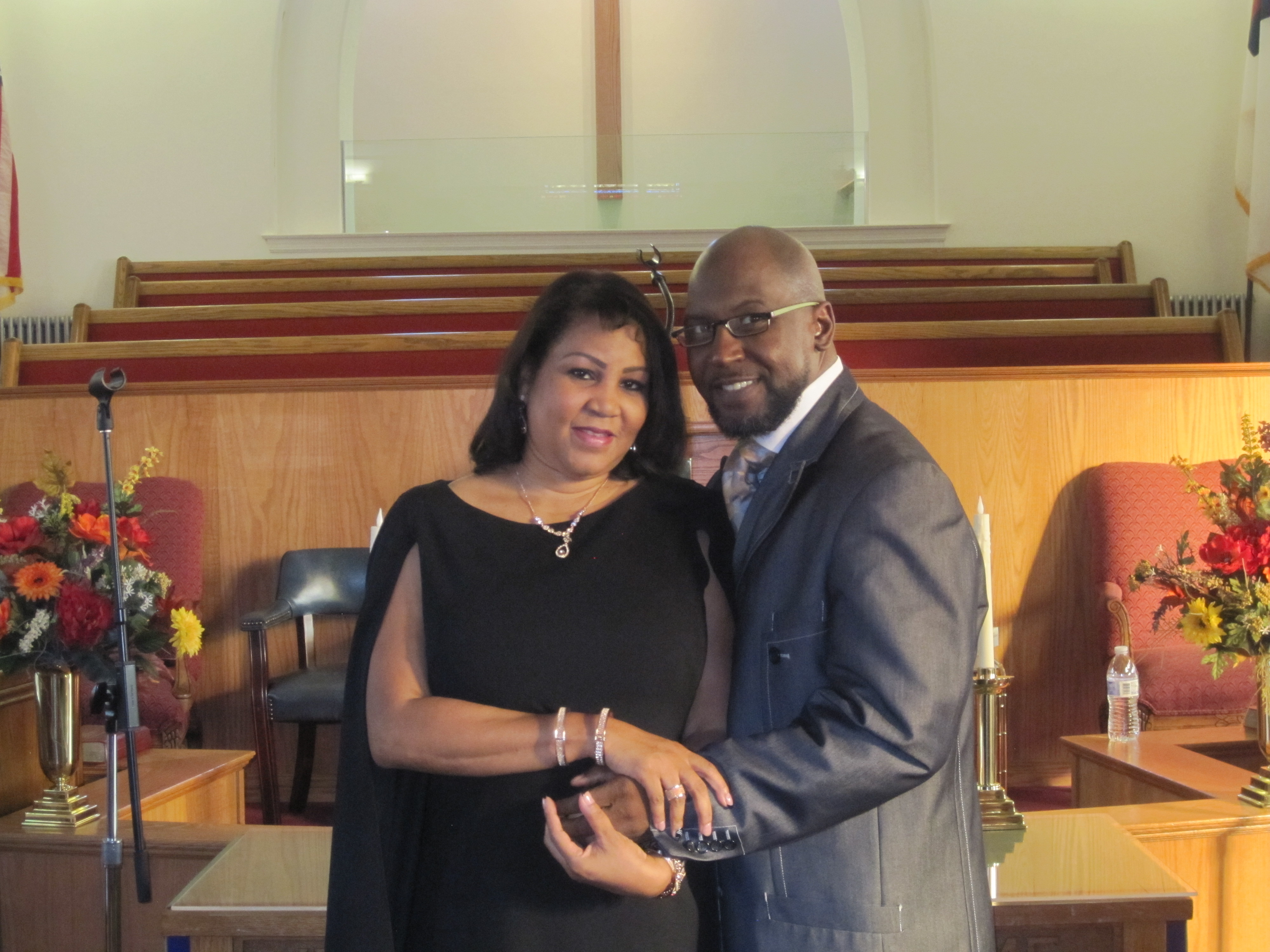 Welcome to Calvary Baptist Church. We are excited that you have chosen to visit our website. We believe that God has a very special blessing here for you and it is our prayer that each life will be touched by the Holy Spirit and forever changed by his transforming power and unconditional love.
Calvary firmly believes in the study of God's word and the practice of its principles. We are dedicated to the spiritual growth and well-being of it's members and the community alike. Calvary is a friendly church filled with the love of Christ.
In our worship experience we strive to create an atmosphere of true worship through prayer, praise, worship and the Word of God. We are a church where souls are edified and God is glorified. We pray that you will join us soon.
In His Love and Service,
Pastor Kenneth & First Lady Robin McGhee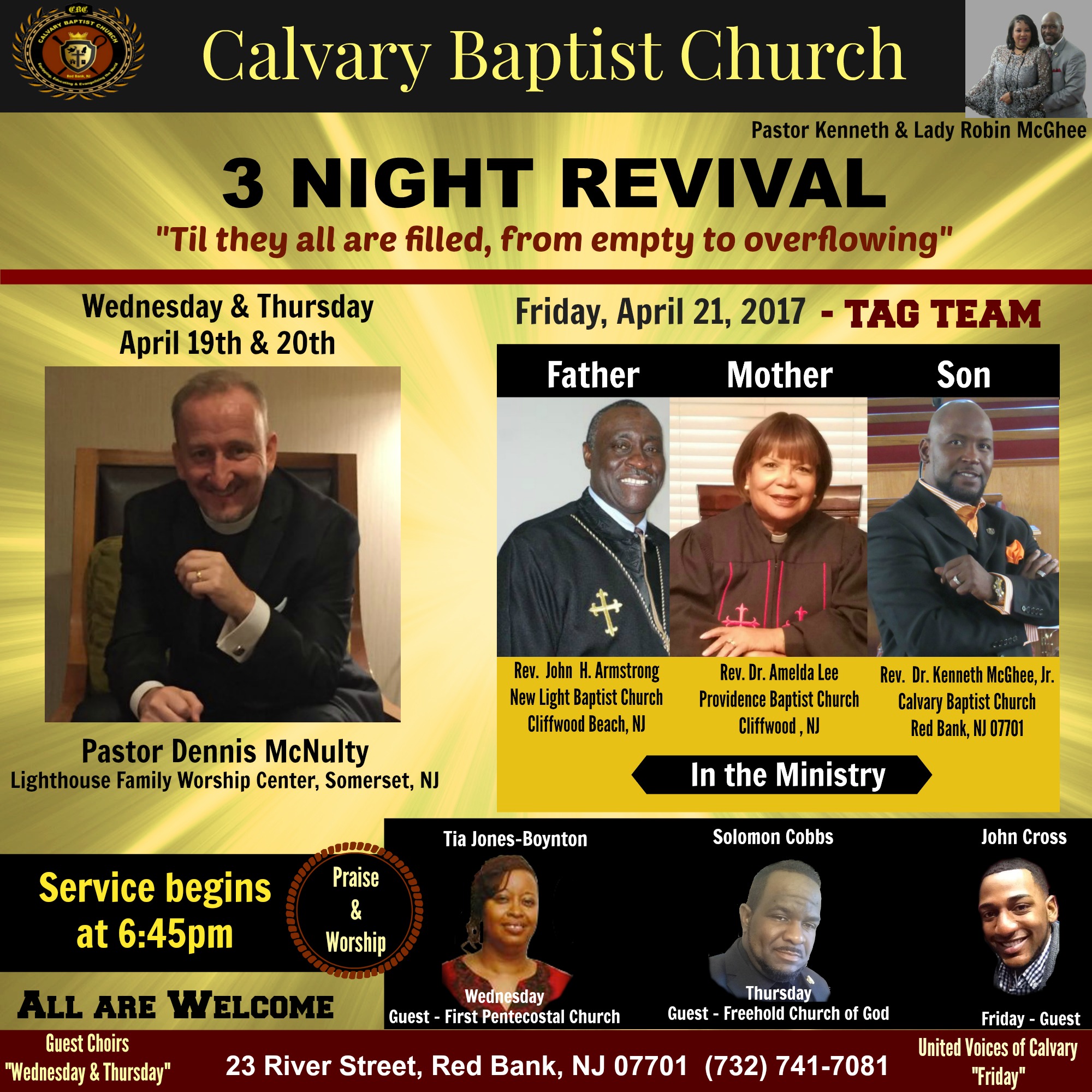 CBC Members
Church Announcements

Tuesday, March 28 at 6:45 – Trustee Ministry meeting

Friday, March 31 at 6:45 pm – Church Conference

Saturday, April 1 at 12:30 pm – Male Chorus rehearsal

Saturday, April 1 at 3:00 pm – Mass Choir rehearsal

Thursday – Friday, April 6 -8 – SMBA Semi Annual Session to be held at United Fellowship Baptist Church, Asbury Park, NJ

Sunday, April 9 at 11:00 am. Worship service - Women in Hats. All Calvary Women are coming together in Unity by wearing a Hat on Palm Sunday.

Friday, April 14 at 12 noon – 1:00 pm – Good Friday Community Worship Service to be held at Shrewsbury First Assembly of God, Shrewsbury, NJ sponsored by Greater Red Bank Ministers Assoc.

Friday, April 14 at 7:00 pm – Seven Last Words from the Cross will be held at Pilgrim Baptist Church, Red Bank. Pastor McGhee will be speaking on one of the Words from the Cross.

Friday and Saturday, April 28-29 – General Baptist Christian Leadership Conference to be held at Heldrich Hotel, New Brunswick, NJ. Alll are welcome to attend. More info forthcoming

Saturday, August 12 – Trip to Gospel Crab Feast and Comedy/ Gospel Music event in Baltimore, MD. Bus will be leaving from Calvary. A deposit of $25.00 will hold your seat. Trip cost is $150.00 and final payment must be made by May 28, 2017. Please see Deaconess Gloria Young or Sis. Sharon Simmons. Join us for a great time of fellowship.

Financial Statements will be distributed on the following Sundays after service in Room 1: March 26, April 2 and April 9. Signup sheets are located in the vestibule and the Educational wing. Any questions, please contact Bro. Ronald Dukes at 732-693-2563.



Calvary Baptist Church Leadership Academy Application

Sign up for Basic Computer Class

Sign up for Social Media Class

Contact CBC Church Secretary
Special Workshop & Event Photos